Click One of the Characters to Enter
(or see links below)
Current Suits:


Ace
The Border Collie
Built By WhiteFox



Kirehana The
KiRin
Built By BeetleCat Originals




Toliara the
Purple Lemur
Built By AmberMoonSong


RoboDog
Raw Mask by MissMonster


Sapphire the Dragon
Built By Magpie Bones


R.C. Dazzle
The RaverRaccoon
Built By JaxTheBat


Diadexxus v1.0 Wing mechanics by Legend Griffin
Still thinking of getting v2.0 done
---

FURSUITS NO LONGER MINE
Jak & Aby (Retired)
Ember Ashpyre (owned by ZigZag)
Sgt. Benton (owned by RaidenWolf)
Kangaroo (owned by BrangKangaroo)
Bingo! (owned by EagleBeagle)
Drama Llama (owned by SlapHappyBunny)
Myth the Dragon (owned by Unknown)
Genna (owned by Kakuifurita)
Harlequin - KanCoon (owned by Kalufurret)
Vortex the Demon (owned by TechWolf)
Riptooth the Skaven (owned by Lacy)


---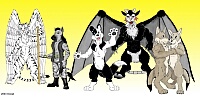 Very Large Picture of some of my Characters! Thanks to OciCat!

Who Am I (Human)?

What is 'FurSuiting'?

Links n' Stuff

What is a Fanboy?




---



Thanks to FRYSCO for the web space!
Please do not use any of the graphics/pictures/etc from this site without Permission
NOTE: All Characters (c) of Jennifer Walker 2000-2018