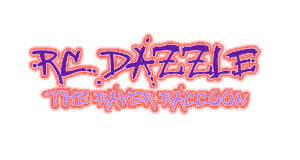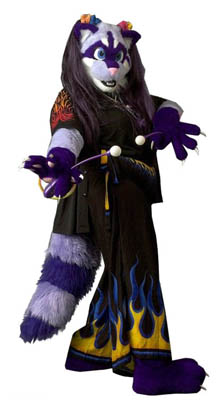 What on earth? A PURPLE Raver Raccoon?? YEP!
Why? Why not! I was actually shocked a Raver Raccoon hadn't been done
yet. Seeing that raccoons are notorious for liking shiny things, and ravers usually
have or like blinky lights, "candy" jewelry, and the like. I thought it was a Great idea!

I talked to AnimeCat to see what her thoughts were on the fursuit idea. She really liked
it, so I commissioned her to make a concept pic which I colored up and then she said
to make her look more cute, she should have HAIR! Pony Tails! I wasn't sure where
on earth I was going to find purple hair, but believe it or not, some was found called
Toyokalon Falls, at Ragdolly.net. They were perfect! You can choose up to four colors.
Dazzle's hair are Dark Purple, Neon Violet, and Lavendar. (wild!)

After we got the colors and look the way I wanted, I looked around for who I would
like to build her! JaxTheBat has been a friend of mine for a few years and thought that he could
do a killer job of matching the artwork. I was NOT dissapointed. What an AWESOME job!

The thing that made me smile is that there was a surprise! The main pawpads are HEARTS!
How cute is that? :) The only thing I built was the tail (since long dark fur is almost impossible
to come by! Thanks to Yippee, I was able to track some down for her tail!!)

Her clothes are either from Ebay, or a second hand store! The teeshirt she wears says "Got Poi?"
She also wears blinky lights, and carries some Raver Toys like those Glow Balls you see above!