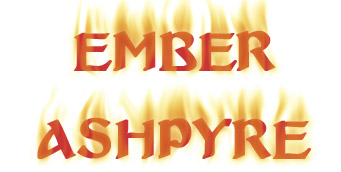 CREATING THE FIREY MANE


CREATING A 'WEFT'
White Horse hair was dyed with RITT dye to be solid Yellow.
Hair was taped together with Duct Tape, and then sewn through a machine MANY times,
tape was cut off, then they are finished "wefts" (sewn horse hair bits).
VERY time consuming!
ATTACHING MANE TO MASK
Using "Barge Cement" I attached the mask to a Painter's Cap. I added a belt
to sit at the back of my skull for a more secure fit (this was screwed into the mask).
The 5 or 6 layers of "wefts" were sen together on a strip of fur to finish the rough mane.
This strip was attached to more fur at the back of the skull and on the mask.
DYEING THE MANE
Once the mane and mask were complete, then I dyed the mane.

I took Leather Inks and hand-dyed the hair to have flames
of five colors: Black, Burgundy, Red, Orange, Yellow.
This took a couple days to finish.